What is Greenrope?
Greenrope is a customer relationship management (CRM) software that prides itself on being an all-in-one solution to not only CRM, but sales, marketing automation, and social integrations for businesses.
Intended Users
Greenrope CRM is best suited for SMBs (small and midsize businesses) who need not only an effective CRM but marketing, sales, social, and operations software and automation.
Platform(s)
Cloud, SaaS, Web

PC

Mobile
Mobile App
Greenrope has a fully functional and useful mobile CRM application that makes this software and using your marketing automation tools simple, no matter where you are. You can access your data and do what you need to do without being tried at your desktop.
The CRM app will automatically sync your data with the web-based client and it is free with all of the Greenrope plans and accounts.
Check in with leads on-the-go

Track and log CRM activities as they happen

Keep track of your events and meetings

Stay informed and on top of email marketing
Features
Greenrope's all-in-one software includes not only CRM (customer relationship management), but a Sales Suite, Marketing Suite, and Operations Suite.
Social CRM
The Greenrope CRM is the main system of record for most of the functions throughout the entire application. This software includes the traditional features and functions of:
Account

Contact

Activity

Opportunity

Case Management
…that is supported through many CRMs, but it has the added benefit of offering integrated marketing capabilities and broad website integration. The benefits include a clear, centralized system that can share data in real time, decreases cycle times, and facilitates better reporting and customer relationship management.
Greenrope continuously expands their CRM to not only offer effective customer service and management but social media integration as well. With this CRM software, you can manage contact records, link your contact's profile with their social network profiles, support viewing contacts' social activities and behaviors, and other smart-features that allow your business to get smart about your partners and customers.
This "social" CRM supports social media management such as: scheduling posts and updates to social networks, as well as using a social media dashboard with a view of social activities. With separate tabs for LinkedIn, Twitter, and Facebook, you can see more details like activity streams, searches, trends, and direct messages. This is great for having relevant and engaging conversations with potential customers and existing customers.
Overall, this CRM is best suited for SMBs who don't simply want your typical CRM with email and chat support, but a social CRM for engaging with customers, seeking out new opportunities, and viewing trends as they occur online.
With this CRM software, plus the additional suites that Greenrope offers in this package, this is a more complete suit that not only includes extras that you will actually use in your business, but it ends up costing significantly less in terms of time and money, than purchasing separate software from different vendors.
Features:
Workflows

CRM

CRM Activities

Opportunities

Sales / Contacts Reporting

Telephony

Calendaring

Booking Calendar

Social

RightSignature

User-Defined Data

Affiliate Tracking

Predictive Analysis

Mobile CRM
Sales Suite
The sales suite offered by Greenrope is one of the additional softwares that is integrated into this CRM. Not only can you keep up with your customers and market your business via social networking and email, through the Marketing Suite, but you can keep track of your sales as well.
The features of the Sales Suite include:
Full Contact Management

Pipeline Visibility

Sales / Contacts Reporting

Telephony

Calendaring

Booking Calendar

Opportunity Tracking

Social

Predictive Analysis

360 Degree View of Customers

Full Sales Reporting

Forecasting

Affiliate Tracking

Quota Management

Mobile CRM
The Sales Suite keeps you up to date with all of your customers, leads, sales activities, and follow ups. You will have full visibility into the efforts of your sales team from quota management, forecasting, and full sales reporting.
Marketing Suite
The marketing suite offers email marketing, templates, embedded components (such as surveys), RSVPs, count down timers, basic lead scoring, lead transfer of sales-ready leads,alert notifications, and more. It is unusual to have a unified CRM and marketing software system together. Email marketing is a feature that is flexible and incredibly useful — you can create email distributions from templates offered by Greenrope including: target lists, RSVPs, embedded components, and count down timers to invoke a sense of urgency. Upon distribution, users can send also send these marketing automation messages to social networks to promote your business or services.
Basic email testing is available using previews as well as spam detection (via SpamAssasin), which can improve deliverability rates.
In terms of supporting events management, Greenrope is actually ahead of the curve. This application can profile event-based campaigns and can support payment types (through PayPal) for: event registration, coupons and redemption, attendance tracking, and event check-ins.
When it comes to lead scoring, this marketing suite covers the basics such as designating point scores to individual pages.
This software does not go into the more advanced scoring capabilities such as multiple lead scores, caps on behaviors, or anything, but the basics are very useful and a great addition to this software.
Features:
Marketing Automation

Journeys

Email Marketing

Website Tracking

Workflows

Signup Forms

Landing Pages

EasyBuilder

Drop Campaigns

Surveys

Email Tracking

Social

Print On Demand

Website Builder

Mobile CRM
Operations Suite
Operating your business does not have to be as complicated with the availability of software like Greenrope. You can use the Operations Suite to increase your operational efficiency so you can manage and run your SMB easier while bringing in components you need from the Sales and Marketing Suites.
This Operations Suite feature is integral for the day-to-day operations of your business or services. It will build upon the Marketing and Sales features and give your employees the data they need to bring in leads, convert them into customers, and keep them following up on clients and customers.
Sales members can leverage support ticket information to make better pitches or the marketing manager can use contact tools to fine tune email sending lists. This suite offers ticketing, project management, contracts, event management, and other operation components.
Ticketing

Project Management

Wiki

Learning Management

RightSignature

Event Management

Collaboration

Contact Tools

Shared Access

Online Chat

Mobile CRM
Greenrope Integrations
Zapier
Greenrope adds onto their excellent range of features with a range of integrations that can be used with this CRM application. You can connect the Apps that you use on a daily basis through Zapier. This integration allows you to create Zaps to connect frequently used applications. You can also add new contacts into Greenrope in order to trigger workflows, drop campaigns, and more!
Online Chat via Olark
Olark integration allows you to install a live chat system on your website, which will synchronize directly with your CRM. This makes for better customer service and makes chatting with customers much easier and more informative for your employees.
WordPress
The Greenrope CRM WordPress analytics plugin means you can easily track your WordPress website in the Greenrope application itself. You can power your website's analytics with Greenrope's tracking features as well as gain full access to blog posts via RSS feed that comes with the plugin.
Magento
With this integration, you can automate your Magento eCommerce with Greenrope CRM. If you use Magento for your ecommerce, you can take it even further and integrate it into this CRM.
GoToMeeting
If you use the popular GoToMeeting in order to host conference calls, online meetings, and webinars, you can integrate it with Greenrope and import your GoToMeeting contacts and events into your CRM application.
RightSignature
With the Greenrope CRM and the RightSignature integration, you can simplify how forms are signed electronically — set up your account quickly and easily and you can get started with creating custom signature templates, which can allow you to send out your documents, signed with your signature, in just a few clicks.
Gmail Gadget
With the Gmail integration, you can access all of your contacts and activities.
SendForensics
SendForensics gives you real time, preemptive analytics for your campaigns. You can email in peace and make sure that no spam leaves the system.
Print On Demand
Further, you can automate your print campaigns with Print On Demand. Every successful integrated marketing strategy should include this. 56% of consumers trust print marketing more than any other advertising method. Use it.
FullContact
Your Greenrope account comes with automatic contact research on public-facing forms, which gives you instant data in your CRM regarding your contacts. This includes social media information, interests, photos, and more.
eHawk
This integration is a cloud-based platform that performs thousands of risk checks in real time using advanced analytics and big data. This will give you some insight into who is checking out your website. In addition, when it comes to signups and forms, there were will be bots and fraudulent signups. eHawk researches and notifies you of these fraudulent activities.
QuickBooks
Yes — accounting software. Another huge plus to this CRM software is that you can integrate it with QuickBooks plugin. If you use the desktop version of Intuit's QuickBooks accounting software, you can synchronize your data with this CRM.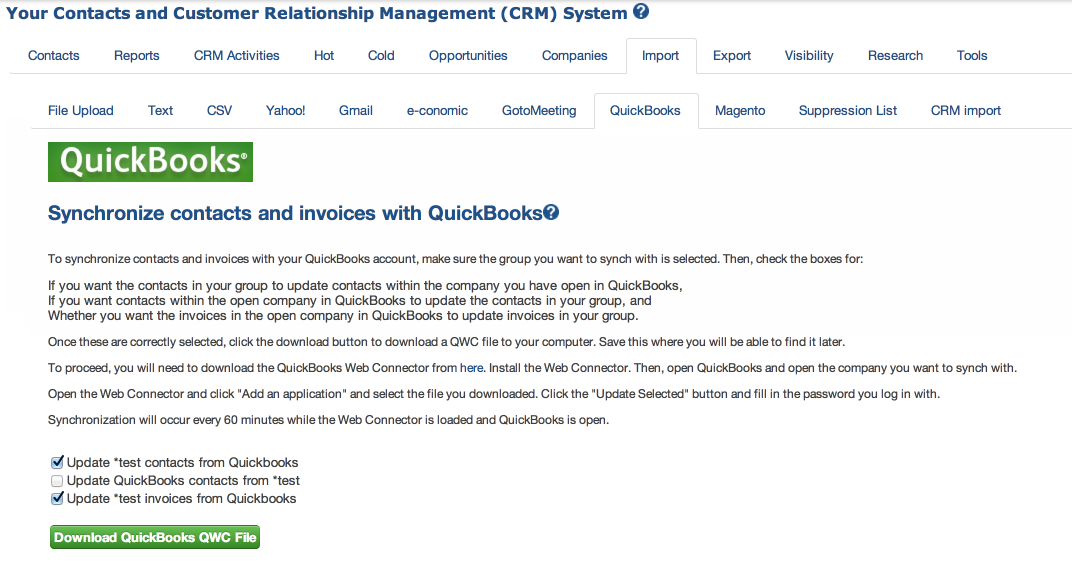 Evernote
Evernote has business card scanning capabilities and a notepad that can feed right into your Greenrope CRM. You can match and sync notes from your Evernote account right into a specific contact's detailed profile in Greenrope.
Outlook
You can integrate with Outlook 2010 or later with the Greenrope CRM software.
Salesforce CRM
You can seamlessly execute targeted email campaigns with powerful email marketing and automation. You can leverage your contact data and engage your leads and clients. Sync, target, engage, and convert your leads with the CRM.
Pricing
There are a variety of plan options available — the price ranges differ depending on how many contacts you need for your business.
Each plan includes all features, an unlimited amount of users, and an unlimited amount of emails.
A custom plan is available for companies who need more than 50,000 contacts.
Account Setup
You can choose from two different, optional, setups for your business.
Standard Account Setup for $399

Premium Account Setup for $499
Free Trial and Free Demo
You can sign up for a 14-day free trial and view a live demo by following the link on their website and clicking on the "Request a Free Trial" or "Live Demo" buttons: https://www.greenrope.com/crm-pricing
Contact
You can contact Greenrope's customer service representatives by filling out a form on their website, at: https://www.greenrope.com/contact
You can also call them at 1-442-333-7577.
Their email addresses are: sales@greenrope.com and support@greenrope.com depending on what kind of assistance you require.
Read Next
Capsule – A CRM That's Easy to Swallow: Comprehensive Review
Prophet CRM by Avidian: Review
PlanPlus Online CRM, Sales Automation, and Marketing: Review
http://www.crmsoftware.org/wp-content/uploads/2017/03/Screen_Shot_2014-06-06_at_10.34.15_AM.png
357
830
crmsoftware
http://www.crmsoftware.org/wp-content/uploads/2016/06/CRMSoftware-Logo.png
crmsoftware
2017-03-10 23:37:36
2017-03-10 23:37:36
Greenrope All-in-One CRM: Review